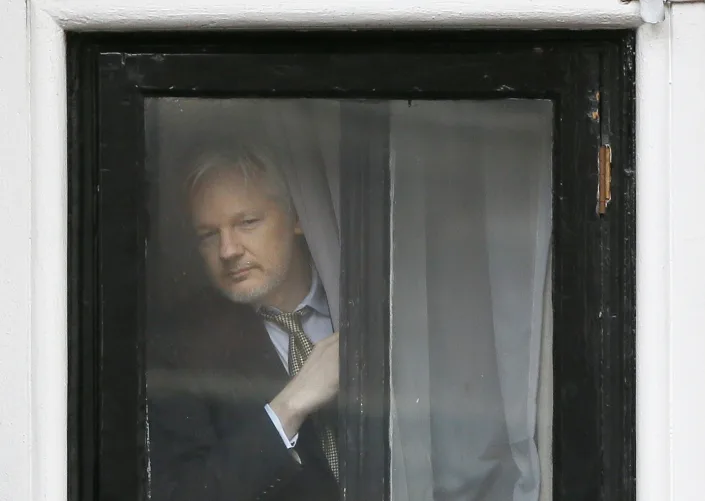 This more than solid scoop comes from the very reliable  Zach Dorfman, Sean D. Naylor and Michael Isikoff at Yahoo News.
While Assange had been on the radar of U.S. intelligence agencies for years, these plans for an all-out war against him were sparked by WikiLeaks' ongoing publication of extraordinarily sensitive CIA hacking tools, known collectively as "Vault 7," which the agency ultimately concluded represented "the largest data loss in CIA history."

President Trump's newly installed CIA director, Mike Pompeo, was seeking revenge on WikiLeaks and Assange, who had sought refuge in the Ecuadorian Embassy since 2012 to avoid extradition to Sweden on rape allegations he denied. Pompeo and other top agency leaders "were completely detached from reality because they were so embarrassed about Vault 7," said a former Trump national security official. "They were seeing blood."
With in-depth reporting–they say eight different sources spoke of the kidnapping plans–, they demonstrate the impulse to break the law came from the top.
It was a campaign spearheaded by Pompeo that bent important legal strictures, potentially jeopardized the Justice Department's work toward prosecuting Assange, and risked a damaging episode in the United Kingdom, the United States' closest ally.
Russia's intelligence service also had designs on Assange, though their were not hostile, according to the Yahoo News. The Russians wanted to spirit Assange out of the country and bring him to Russia, which would have been a propaganda coup for Vladmir Putin and a poke in the eye to the United States.
That never happened.
Assange is now housed in a London prison as the courts there decide on a U.S. request to extradite the WikiLeaks founder on charges of attempting to help former U.S. Army analyst Chelsea Manning break into a classified computer network and conspiring to obtain and publish classified documents in violation of the Espionage Act.
Source: Kidnapping, assassination and a London shoot-out: Inside the CIA's secret war plans against WikiLeaks