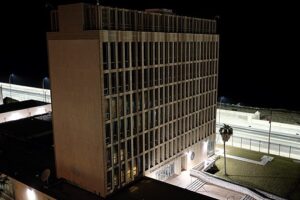 The non-profit National Security Archive in Washington has the latest on a mysterious malady that felled two CIA operatives in Cuba and many others.
Is it a secret weapon, perhaps developed by the Russians, targeting U.S. intelligence operatives and diplomat? There's no evidence that.
But it's not clear what could be causing similar symptoms among dozens of people who worked at the U.S. Embassy in Havana. This is a true mystery.
The report confirms what has been widely reported in the media—that in late December 2016, the first individual (reported in the media to be a CIA officer) went to the medical unit in the U.S. Embassy in Havana for evaluation of "vestibular disturbances, vision changes, cognitive deficits, auditory symptoms, sleep impairment and headaches." After a second U.S. official—also identified as from the CIA Station by other media sources—reported "an unexplained onset of similar symptoms" in early February 2017, the State Department issued an advisory to U.S. personnel in Cuba to share "any unusual auditory and sensory events" and symptoms with the in-country medical team. "Additional USG employees reported similar unexplained symptoms, some pre-dating the onset of the original report," CDC investigators found.
Source: CDC Report on the 'Havana Syndrome': Medical Mystery Remains Unresolved | National Security Archive