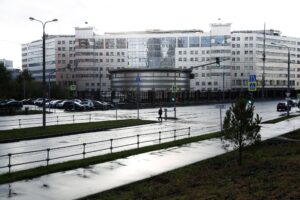 [The Series: Spies on Election 2020: RUSSIA | ISRAEL | SOUTH KOREA] IRAN |
How do the world's spy services understand America's presidential election? Friend or foe, all of these intelligence agencies have a big stake in the outcome of the race between President Trump and former Vice President Joe Biden.
The DEEP STATES web site has asked five journalists to take us inside key intelligence services to show us how they understand the choice facing American voters and its implications for them.
The series begins Thursday October 22, with Nina Burleigh's report on Russia's GRU. Burleigh is a former Newsweek correspondent and author of many books, including, "Trump's Women." One former top CIA officer with Russian experience tells Burleigh.
In 2016 they took a long shot getting an agent or possible agent elected and now they are desperately trying to keep the joyride going."
On Friday October 23, Yossi Melman talked to Mossad veterans about the how Israeli intelligence officials navigate American and Israeli politics. Melman, a correspondent for Haaretz, the Israeli daily, explained
If Netanyahu is the architect-ideologue of building cozy relations with Trump, Cohen is the builder-operator. He provides the intelligence to justify the Trump-Netanyahu tango.
On Monday, October 26, Tim Shorrock explored how South Korea's National Intelligence Service has emerged as a force behind the scenes in the Trump-Kim peace talks. Shorrock, who grew up in South Korea, writes for The Nation and other national publications. Shorrock says:
How the NIS – the successor to the KCIA, once one of the most feared spy agencies in the world – came to play a central role in the Korea peace process is a little-known story that explains much about South Korea today and its progressive leadership under President Moon.
On Tuesday, October 27, Maysam Behravesh checked Joe Biden's debate claim that Iran is interfering in the U.S. election. The story of Iranian intelligence and the U.S. vote is a little more complicated than that, he says. Behravesh, a former Iranian intelligence analyst, now living in Europe, has written for Foreign Policy, National Interest and other policy journals. Behravesh concludes:
Whether Trump or Biden wins the race, the Islamic Republic will seek to achieve a "manageable" state of tensions with the United States and its allies without necessarily working to resolve them once and for all.
Stay tuned.
Click for the DEEP STATES guide to Top World Intelligence Agencies.