The coup that toppled a democratically elected government in Iran in August 1953 and replaced it with a tyrannical monarchy that lasted 25 years was an intelligence operations whose effects are still felt to this day.
A new documentary recounts the crime with special attention to the often-overlooked role (at least in the United States) of the British.
(If you live in the United States, you can stream COUP 53 here. If you live in the United Kingdom, you can stream here. As with all quality journalism, it will cost you something.)
From the nonprofit National Security Archive, which found some of the key documents cited in the film.
Britain's Secret Intelligence Service – MI6 – took part in the 1953 kidnapping of the chief of police of Tehran, Iran, according to a recently recovered interview of an ex-MI6 operative that is featured in a new documentary film, COUP 53. The full interview transcript has been posted for the first time by the National Security Archive.
The MI6 operative was a named Norman Darbyshire, described as:
elusive figure who was a key contributor to Britain's clandestine approach toward Iran in the early 1950s and whose final words on the coup, provided for the Granada Television series End of Empire, were never aired.
In the interview, Darbyshire said that the Americans took too much credit for ousting Prime Ministers Mohammed Mossadegh, and replacing him with a general. Mossadegh was described as a communist sympathizer because he was calling for the British petroleum company to pay the same royalty fee that American oil companies paid to the Saudis.
What helps make this item noteworthy is the near-total lack of publicly available official records on Britain's role during the oil nationalization crisis starting in 1951. Closing in on 70 years after the fact, authorities continue to withhold archival records about the coup. (The Americans in 2017 published what will probably be the last significant official release of their records, although more are known to still be classified.)
Source: COUP 53: New Documentary on Overthrow of Iran's Mosaddeq | National Security Archive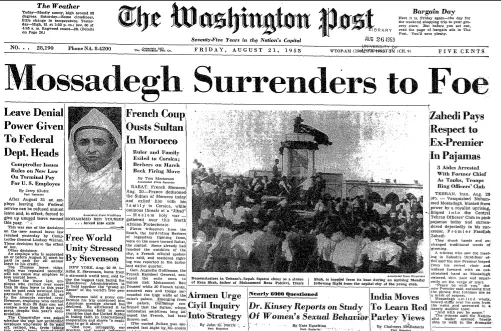 MORE: Iran's intelligence services today.