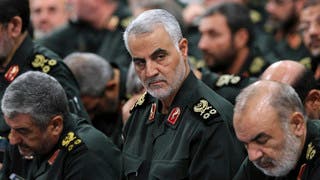 National Security adviser John Bolton pushed for the assassination of Iranian Gen Qassem Soleimani last summer, according to U.S. officials cited by NBC News. In a break with past U.S. policy, Bolton recommend killing the Iranian general whose battlefield successes had disturbed U.S. policymakers worried about growing Iranian influence in the region.
After Iran shot down a U.S. drone in June, John Bolton, Trump's national security adviser at the time, urged Trump to retaliate by signing off on an operation to kill Soleimani, officials said. Secretary of State Mike Pompeo also wanted Trump to authorize the assassination, officials said. But Trump rejected the idea, saying he'd take that step only if Iran crossed his red line: killing an American. The president's message was "that's only on the table if they hit Americans," according to a person briefed
Source: Trump authorized Soleimani's killing 7 months ago, with conditions
While the chief of Israel's Mossad had talked publicly about assassinating Soleiman last fall, the Israeli spy service, like President's Bush and Obama, had declined to kill the Iranian general, even when it had the chance. On Bolton's advice, Trump abandoned that policy.