Once upon a time, a long, long time ago–meaning last week–President Trump avowed there was no collusion between his presidential campaign and Russian state agents.
And one of his most loyal allies on Capitol Hill agreed.
Then came Thursday's plea agreement from Maria Butina, the Russian graduate student who insinuated herself into Republican circles with the goal of establishing "back channel communications" to the White House.
Of course, #NoCollusion believers can change the subject to Hillary's email (or the Guardian's unconfirmed and shakily sourced story about Paul Manafort and Wikileaks), but if the subject is collusion, the "smocking gun" has arrived. Butina's plea isn't a smoking gun, but it's close.
'The Benefit of Russia'
Starting March 2015 Butina says that she and her boyfriend, Republican political operative Paul Erickson, "agreed and conspired with" Russian banker Alexander Torshin," and "at least one other person, to act under the direction" of Torshin.
Her mission, Butina admits: "to establish unofficial lines of communications with Americans having power and influence in U.S. politics. Butina sought to use these lines of communications for the benefit of the Russian Federation. "
A month later, Butina attended a National Rifle Association convention where she was introduced to "influential members of Political Party-1 [ie Republicans], one of whom announced his campaign to run for the presidency of the United States shortly thereafter," a reference, not to Trump, but to Wisconsin governor Scott Walker.
In July 2015, Butina attended a conservative conference and –what a coincidence–Trump picked her out of a crowd to ask a question. Listen as Butina lobs a softball question at a man about to announce his candidacy for the presidency.
In his rambling answer, Trump said, " I believe I would get along very nicely with Putin, OK? And I mean, where we have the strength. I don't think you'd need the sanctions. I think we would get along very, very well."
Butina was making progress.
After Trump was elected, Butina organized a Russian delegation to the National Prayer Breakfast in Washington DC in February 2017. She told Erickson the delegation had been handpicked by [Torshin[ and me" and were coming "to establish a back channel of communication."
Erickson told an associate saying "Reaction to the delegation's presence in American will be relayed DIRECTLY" (emphasis in original) to the Russian president and foreign minister."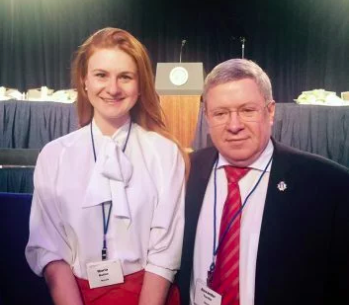 The White House scheduled a meeting with Torshin after the prayer breakfast but abruptly cancelled, apparently because Spanish officials had alleged Torshin was involved with Russian organized crime figures, a charge that Torshin denies.
Thanks to Butina's networking, the president agreed to meet with her handler, and then cancelled. So one can argue, no meeting equals #NoCollusion.