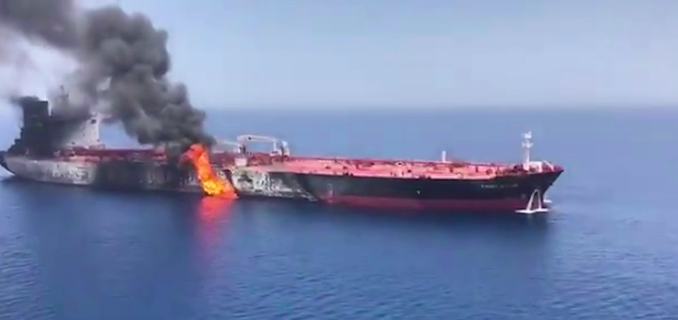 So who attacked the two tankers in the Gulf of Oman in June 13, the attacks that brought Iran and the United States to the brink of war?
The United States released a grainy video of small ship removing what it said was a limpet mine from the hull of one of the tankers. Secretary of State Mike Pompeo charged the Iran's Revolutionary Guard Corps (IRGC) was responsible for the attack
The Iranian government rejected the charge. Foreign Minister Javad Zarif tweeted "Suspicious doesn't begin to describe what likely transpired this morning" Parliamentary speaker Ali Larijani suggested the attacks might have been a U.S.-sponsored "false flag" operation.
Less interested parties are split. German chancellor Angela Merkel says the evidence for an Iranian role is "strong." A top Russian national security official described the evidence shared with Moscow was unprofessional and of poor quality.
Now a key U.S. ally in the region, the United Arab Emirates, says it does not share Pompeo's allegations.
"We cannot point the finger in blaming any country for the attacks that recently hit four tankers in our territorial waters because we do not have evidence," said UAE Foreign Minister Sheikh Abdullah bin Zayed Al Nahyan on Wednesday.
"If there are any countries with clearer evidence," he added, "then the international community will certainly listen to them."
The ships were attacked while in UAE's territorial waters. More than 50,000 Americans live in the UAE, including 3,500 military personnel at the Al-Dhafra Airbase. Either the Trump administration hasn't shared evidence with its ally or what it has shared doesn't quality as evidence.
Source: U.S. and Saudi Ally U.A.E. Says It Can't Blame Iran for Attacking Tankers: 'We Don't Have Evidence'