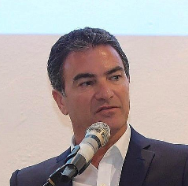 Israeli intelligence Yossi Cohen is predicting that other Gulf and African Muslim countries will recognize Israel in the coming year.
The United Arab Emirates opened diplomatic relations with Israel this week, the first Arab country to do so in decades
Whether or not Cohen's prediction pans out, the Mossad chief is playing a leading role in Israel's diplomatic offensive. Cohen was quick to help embattled Prime Minister Bibi Netanyahu when the pandemic struck. Cohen is touted as a possible successor to Netanyahu.
"In the wake of this agreement will come additional agreements, both with more Gulf countries and with Muslim countries in Africa," Intelligence Minister Eli Cohen told Army Radio. "I think that Bahrain and Oman are definitely on the agenda. In addition, in my assessment, there is a chance that already in the coming year there will be a peace deal with additional countries in Africa, chief among them, Sudan," he said.
Source: Israel says it expects Bahrain and Oman to follow UAE in formalising ties – Reuters