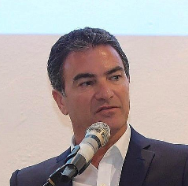 The chiefs of Israel's intelligence service, Mossad, have long been public figures in Israel. When Prime Minister Benjamin Netanyahu endorsed President Trump's withdrawal from the Iran nuclear deal in May 2018, former Mossad chief Tamir Pardo made headlines by saying Israel's security would be enhanced by some kind of deal.
When the Obama and administration and five world powers were negotiating the Iran deal, former Mossad chief Efraim Halevy made headlines by supporting the agreement.
But, until now, no Mossad chief has ever moved on to become the country's prime minister. That could change with the growing political profile of Yossie Cohen, the current Mossad chief. Cohen is not shy about sharing his covert exploits (he spoke with pride recently about Mossad's assassination program). He does not deny his political ambitions.
From Mondoweiss:
Cohen is one of the two people directly suggested by Prime Minister Netanyahu as his successors in the future – the other being Ron Dermer, who is now Ambassador to US. Cohen is playing it smooth: "People tell me that I can step into Netanyahu's shoes. I certainly see myself in the Israeli leadership also in the future. But I have not yet decided." Cohen is likely to continue his job for a couple of years, to end up with a five-year term like his predecessor Tamir Pardo, and then he would have to be on a three-year "cooling-down" period before entering politics. Benny Gantz went into politics right after his period was over, after he was army Chief of Staff.
Its seems like spy chiefs are growing into political roles everywhere. Vladimir Putin was a KGB intelligence officer. Former intel chiefs John Brennan, James Clapper and Michael Hayden are leading critics of Trump. Yossi Cohen follows in their footsteps.
Source: Meet Yossi Cohen, the Israeli spy chief seen as the heir to Netanyahu – Mondoweiss