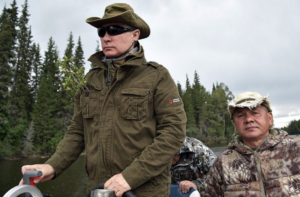 Vladimir Putin has a migraine named Sergey Skripal and the pain is making him testy
According to The Guardian, the Russian president denounced Skripal with harsh words.
Skripal is the former Russian intelligence officer who survived an assassination attempt in Salisbury, England last year. Putin called him a "traitor," which is to be expected, and a "scumbag," which is not.
It sounds like Putin is taking the Skripal saga personally.
Last month British MI6 intelligence agency concluded two Russians were involved and they were indicted for attempted murder, a charge Russian government spokeswoman has rejected.
But a variety of independent report,s from Bellingcat, the crowdsourced investigative site, and independent Russian media, allege one of the two suspect, identified as "Ruslan Borshirov," is actually a decorated Russian military intelligence officer named Anatoliy Chepiga.
The charge has been repeated by Radio Free Europe/Radio Liberty, a U.S.-state controlled media outlet, so the possibility of propaganda cannot be dismissed.
Is This Report Credible?
Putin's regime has been credibly connected by independent journalists to multiple assassinations of its critics.
While the reports about Boshirov/Chepiga have not been independently confirmed by U.S. news organizations, the variety of sources and the reproduction of documents make me think these reports are not just "disinformation" as the Russian Foreign Minister.
For example, a source told the Russian news agency Rosbalt that "serious measures" are planned against whomever was responsible for leaking the two suspects' personal information If the story is made up, there would be no leakers to investigate.
The man calling himself Boshirov, and fellow suspect Alexander Petrov ,gave an interview to the editor in chief of RT last month in which they professed their innocence. Many observers thought their story was, shall we say, not convincing.
Watch the RT interview and decide for yourself.